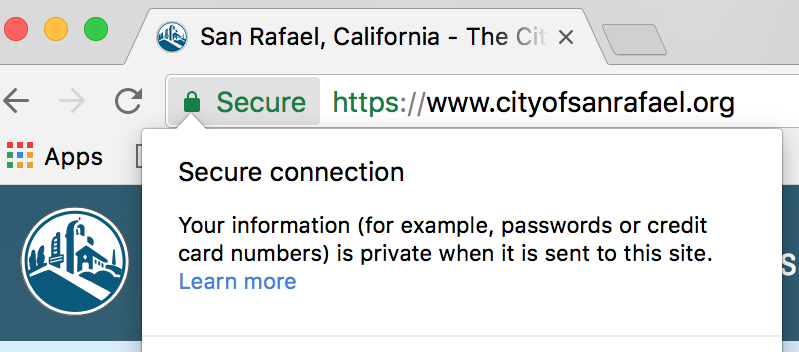 Hypertext Transfer Protocol Secure (HTTPS) is web security protocol that validates and ensures user privacy protections are adhered to.
"The American people expect government websites to be secure and their interactions with those websites to be private."
What HTTPS does
HTTPS verifies the identity of a website or web service for a connecting client, and encrypts nearly all information sent between the website or service and the user. Protected information includes cookies, user agent details, URL paths, form submissions, and query string parameters. HTTPS is designed to prevent this information from being read or changed while in transit. (CIO.gov)
What HTTPS guarantees
Confidentiality. The visitor's connection is encrypted, obscuring URLs, cookies, and other sensitive metadata.

Authenticity. The visitor is talking to the "real" website, and not to an impersonator or through a "man-in-the-middle".

Integrity. The data sent between the visitor and the website has not been tampered with or modified.