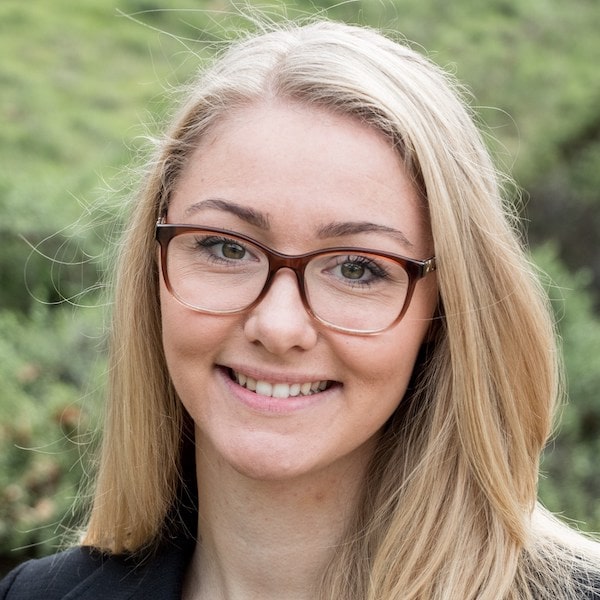 "I am proud that we looked at what the state required and said, 'that isn't enough.' To us, it isn't enough to allow our residents to participate by email before the meeting. We wanted to make our virtual process mirror in-person meetings as much as possible, and that meant we needed to allow real-time commenting. I am proud we pushed further."

Lindsay Lara, city clerk, San Rafael, Calif.
What are your responsibilities as San Rafael city clerk?
As the city clerk of San Rafael, I am the elections official, filing officer, records manager and legislative administrator for the city.
This means we manage local elections and ensure those required to file financial campaign statements or statements of economic interests do so in accordance with the Political Reform Act. We manage the preparation and completion of the agenda packet for city council meetings and execute any resolutions and ordinances following the meetings.
While there are many other things we do, they all mostly fit nicely in those four areas.
San Rafael has significantly altered the way you present and publish public meetings. What triggered you to make this wholesale change?
When the COVID-19 pandemic hit, we had to reimagine the way we streamed our meetings to include virtual participation from our community.
We decided to stream our public meetings to YouTube instead of through our streaming vendor. Our prior vendor had a 90-second delay, and that wouldn't work with virtual participation.
Once we started streaming through YouTube, it made us realize we were paying a LOT of money for meeting packet hosting services with our prior vendor.
We were scared to leave our vendor because we had 10 years of content hosted on their site, and we were worried we couldn't easily make the move. However, faced with budget cuts across the city combined with seeing an easy-to-use solution that we could move to, it was a no brainer for us.
And how have you addressed these challenges?
We just made the decision to focus our energy on moving our content to another platform, and dove in.
Due to the volume, we needed assistance from our digital team to export the data, but once we had the content, we started importing it into our electronic document management system, and began adding all of our 2020 meeting information onto our website for our community to access.
It was much easier than I anticipated it would be, and our team easily adapted to the new way we upload our agendas and staff report to our website.
How long did it take you to change your public meetings process? Was it worth it?
I think we talked about leaving our legacy vendor on April 15, and we actually cancelled our contract on April 25.
We immediately started importing all of our content and built out our meeting pages through ProudCity. To get ready to use our new meeting module through ProudCity day-forward took us about three hours, but migrating our content was a larger group of work and that took a few weeks.
Was it worth it? An emphatic YES. I think our new meetings module is easier to use, looks so much cleaner, and we are much happier with the customer service we receive than we were before. Creating our agenda packet is simple and easy.
I would say it takes the same amount of time, if not less, than it used to take us to create the agenda packet online.
How did you prepare city council members to be best equipped for online public meetings?
Preparation for online virtual meetings was the most important aspect, along with preparing the community, of going online.
I held multiple training sessions where I reviewed background, lighting, delays, wifi connection and image quality. During training, I had council members move to different locations where their lighting would be better throughout the night, we moved people to be closer to their router for improved video quality, and we asked that no one use virtual background because they can be distracting from the purpose of the meeting, which was the community and their discussion.
After making sure everyone was prepared for virtual meetings, the most important thing we did was create a script for the mayor and the city council to follow. This was vital so they didn't feel they needed to to talk over each other because the script showed that each of them would be called on by name during the discussion.
What have you learned from live-streaming and real-time public commenting?
For years, we have had discussions about increasing participation from folks who don't typically come to our meetings. We have talked about child care for people who can't make it out because they have little ones at home, or those that are working during the evening.
Providing live-streaming through YouTube and enabling the real-time chatroom, provides opportunities for everyone to participate from home or work, or while running errands.
Additionally, I've learned we need to repeat the process during every public comment period because people need to be reminded of how it works, which now seems to be running smoothly.
What technologies are you using to deliver online meetings to the people of San Rafael?
We are publishing our agenda, minutes and staff reports online through ProudCity. We are streaming live to YouTube and enabling the live chat, and we are using Zoom for folks who may not have access to the internet and would like to call-in to listen and participate.
How are you leveraging social media into your online meeting strategy?
We're using YouTube, Facebook, Nextdoor and Instagram to get the word out about the change in our process and to drive people to our YouTube channel.
What analytics are you measuring to determine engagement and success?
After each meeting, we monitor YouTube analytics for overall views, unique views, audience retention, views after two weeks, comments received by phone and comments received through live chat.
When we receive comments from the public that something isn't working, or we see someone frustrated with the process, we reach out to them and try to find out exactly what happened so that we can improve that process.
One issue we realized was that even though we had instructions blasted all over YouTube that if people wanted their comments read into the record, they needed to write "public comment" in advance of their comment. People continued to not type that, so initially we weren't reading their comments. We made a change to the process, and I made the announcement during public comment stating "if you are participating through YouTube and would like me to read your comments into the record, you need to write 'Public Comment' in advance of your message so I know you want your comments read into the record, and that you're just not chatting with other viewers."
Since making this change, the chats have gone much more smoothly.
What's been key to your success?
Iteration.
We have had to pivot over and over, but we just keep modifying our process to make sure it is working - not just for us, but for our community. We have also been willing to release our process before finding perfection, which was important because we really needed to make sure we were meeting our community where they were during COVID-19.
We knew we were providing more opportunities for public participation than the state was requiring.
What advice do you have for city clerks unsure about changing how they do public meetings?
Change is scary. It is.
But there has never been a better time to be bold and take an honest inventory of why we do what we do, and if we can do it better. Now is the time to be radical and make significant changes to our process in an effort to meet our community where they are.
Is it work? Yes.
We moved 10 years of meeting content off our prior vendor's site, but it was completely manageable. We knew we needed to change our process, and we knew if we kept putting it aside because of the amount of work, the work would only increase.
We found a way to make it work for us, which was moving all of our 2020 content to our new meetings module, but downloading all of the other content to our electronic document management system, and we link to that for our meeting archive.
What are you most proud of with how you now do public meetings?
There are so many things.
Here are a couple:
I love the way our public meetings page looks and feels. It is clean, the YouTube video embeds beautifully on our site, and it makes it really easy to view.
I am proud that we looked at what the state required and said, "that isn't enough." To us, it isn't enough to allow our residents to participate by email before the meeting. We wanted to make our virtual process mirror in-person meetings as much as possible, and that meant we needed to allow real-time commenting.
I am proud we pushed further.