Marin County Proud: Julian Kaelon
Marin County Public Works Media Communications Manager Julian Kaelon shares their digital journey to better serving its community.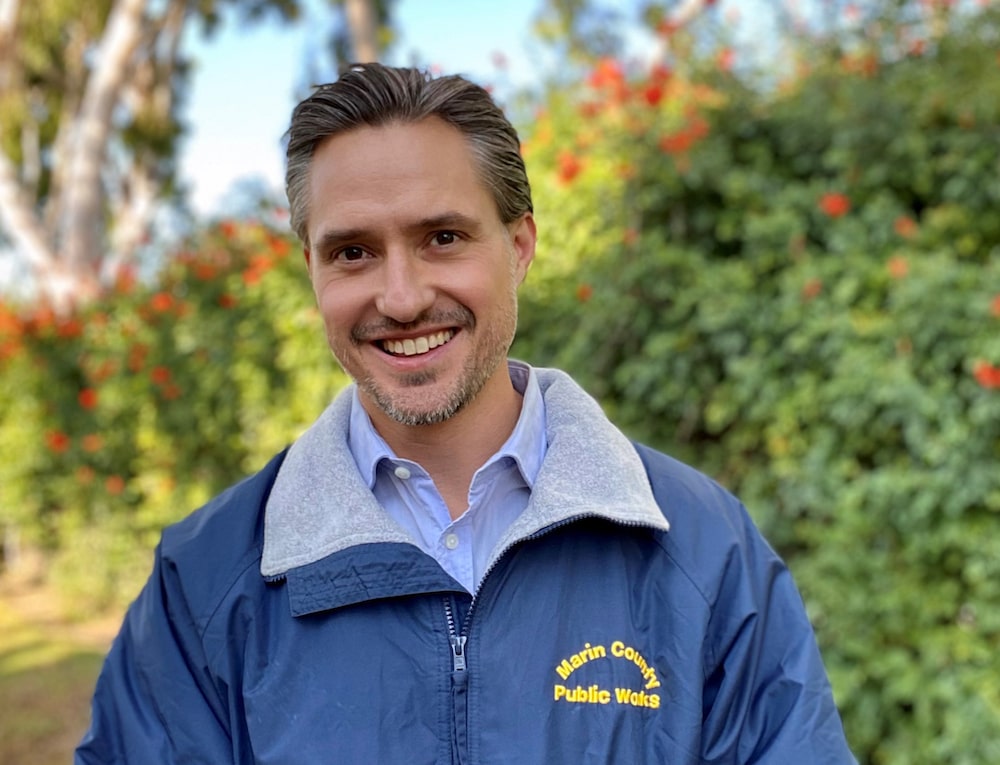 ---
Why are you Marin Proud?
There is something magical about Marin. Nestled between the vibrant, world-class city of San Francisco and the wonderful wine country of Sonoma and Napa, Marin offers a unique mix of people and experiences spread across a gorgeous landscape. Whether you're looking for a pleasant place to raise a family or you're an outdoor enthusiast looking for your next adventure, or maybe just hunting for the best oysters and microbrews in California, you can find it here. I think that's what draws me so strongly to Marin: It welcomes people from all walks of life and provides a beautiful playground for us to enjoy.
The local governments here, from the cities up to the county level, truly care for their communities and that is something that I feel every day in my role with Marin County Public Works. I take pride in giving back to the community and working to make life better for my fellow residents. In Public Works, we strive every day to improve the roads, bridges, public facilities, and waterways of Marin. We provide the crucial services that keep the community functioning and thriving. All our hard work helps people go through their days smoothly, enabling them to take care of the things they need to do and focus on what's important to them. I'm proud to serve my community in this way.
What aspects of Marin DPW digital service are you most proud of?
Last year, Marin County Public Works launched our new Strategic Plan with the goals of modernizing our organization, defining our identity, and maximizing our ability to serve the people of Marin. A major part of the multi-year effort is to look at the ways in which we've always done things and then ask ourselves how we could do them more effectively and efficiently. Unsurprisingly, a lot of that came down to technology improvements and digital solutions. This is where Proud City came through for us in leaps and bounds.
Transitioning away from our old website was a big move and required thinking about new ways of presenting our services to the community. I'm proud of how we were able to redefine and reorganize ourselves, moving away from a traditional, complex government structure to one that focuses on providing users with streamlined, direct access to our wide range of services, programs, initiatives, and projects.
I'm most excited about the Service Center, a one-stop-shop for users right on our homepage where they can easily find key information. The "Get Answers" section creates an intuitive new take on the traditional FAQ approach and delivers an efficient way for users to quickly get the information they need so they can get on with their daily lives. Another huge leap forward in our digital service is the "Report an Issue" section of the Service Center, where users can submit inquiries, questions and concerns on a range of topics. Those submissions are routed to the appropriate staff member who can address the issue directly. This is a vast improvement in efficiency and quality of service for our users and is an accomplishment that I'm truly proud of.
What have you learned launching your new digital efforts?
Right out of the gates on launch day, we began receiving a lot of webform submissions through the "Report an Issue" portal. It quickly became clear that we had created a communication avenue that the public had been craving. This opened a whole new facet of our community engagement, tapping into a potentially new audience that may not have known how to access us before. It's a good feeling to have created this helpful new tool for our users. On the internal workflow side, launching this website is making us reinvent how we operate, driving us to coordinate and track our incoming requests differently than ever before, which is something I'm excited to see evolve over time.
What advice do you have for others?
Launching a new website seemed like a daunting task when our department first started moving in that direction. But once we were working with Proud City, things just started clicking into place easily. It was helpful to be able to break down the project into manageable segments. I was lucky to embark on this project with a team of coworkers who were equally motivated to make a significant change in our online presence, as well as having the full support of our department's executive team. Having the right team, and keeping it small enough to be agile, is something I'd recommend to other organizations planning to make the jump.
There are a couple major take-aways from the process that are worth keeping in mind when undertaking a website upgrade like this. First and foremost is to try to look at your website from the user's perspective. They don't care about organizational divisions/departments and government jargon; they just want to find the information they need and get their task completed so they can get on with their day. For us, we chose to break down the silos of information and try to make our services as transparent as possible.
The second bit of advice is to be selective about what makes the transition to the new site. During our initial content review, we realized we had a lot of outdated content on our old website. Based on analytics, it was surprising to see how many of our pages were not even being visited by the public! To create a truly helpful new website for our users, we chose to make the tough content choices and not sidestep hurdles. Throughout each step in the process, our team would ask if a choice provided relevant and useful information to our user. I am proud of the result.
How can others connect with you?
If you have questions about my team's experience launching the new face of Marin County Public Works, you can reach me via email or on LinkedIn.