Ohio local government websites
ProudCity Web makes it easy and cost-effective for Ohio local governments to launch and manage accessible, mobile-friendly websites.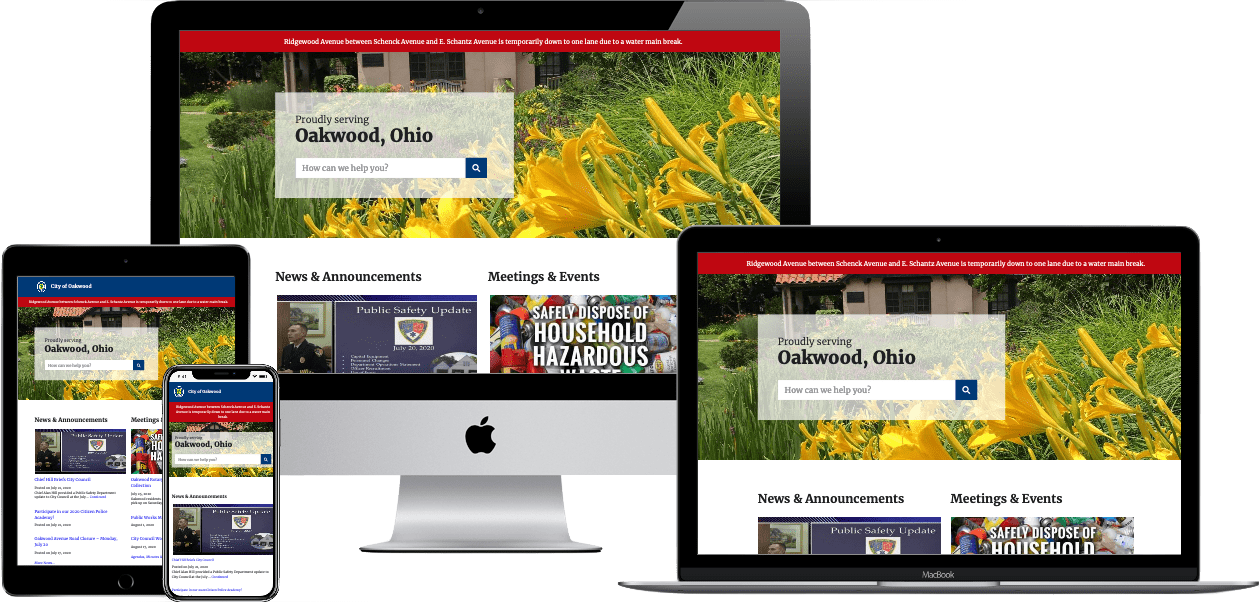 Featured Ohio local governments
Mobile-friendly
Adapts to any device (smartphones, tablets, laptops/desktops, TVs, kiosks).
Content management
Add/edit/delete pages, posts, menus, images, videos, news/blogs, calendars, job postings, events and more.
Directory
Filter by agency, councils, elected officials. People profile pages (contact email, phone, social media). Directory demo →
Social
Connect social media feeds to your website for real-time updates (Twitter, YouTube). Social demo →
Maps/GIS
Interactive services map to display government buildings, schools, post offices, fire/police departments and more.
Vote
Automated voting information including polling times/locations, issues and referendums and political candidate info. ProudCity Vote →
SEO
Search-engine optimized, including automatic sitemap.xml generation submitted to Google/Bing, webmaster tools XML sitemap, structured HTML mark-up.
Newsletter
Integrates with mainstream email newsletter services (MailChimp, ConstantContact).
Analytics
Administrative dashboard access to web analytics (Google Analytics) (pageviews, visitor traffic and more). Learn more →
Calendar
Manage events, search and filter by type, save to personal calendars (iCalendar, Google, Outlook, Yahoo!), Google Maps directions, share to social media. Calendar demo →
Data-driven
Open application programming interface (API) enabled.
Customize
Manage the appearance of your website branding (drag and drop customization, modify colors/fonts, photos, graphics, page templates).
Translation
Built-in translation for more than 100 languages (Spanish, French, Chinese and more).
User roles
Internal users have administrative access to content based on their respective roles (manager, publisher, author).
Integrations
Interoperable with a growing list of third-party services (Stripe, SeeClickFix, MailChimp, embedding and more). ProudCity Marketplace →
Get a city government website quote.