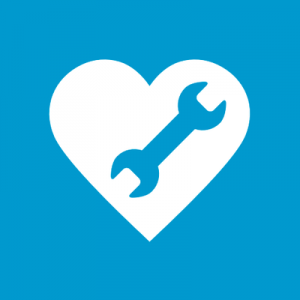 ProudCity integrates with a growing list of third-party services, and one of our favorites is SeeClickFix, both because of its philosophical approach to civic engagement and collaboration, but also its accessible API.
Because SeeClickFix has a well-designed, open API, ProudCity is able to easily and elegantly integrate with the service.
About SeeClickFix
SeeClickFix is a communications platform for citizens to report non-emergency issues, and governments to track, manage, and reply — ultimately making communities better through transparency, collaboration, and cooperation.
SeeClickFix on ProudCity
There are two ways SeeClickFix integrates with ProudCity — through our services map and actions box.
Viewing reported issues
The ProudCity services map allows residents to filter by schools, police , fire, libraries, post offices, parks and reported issues. When filtering by issues, residents can see all reported issues.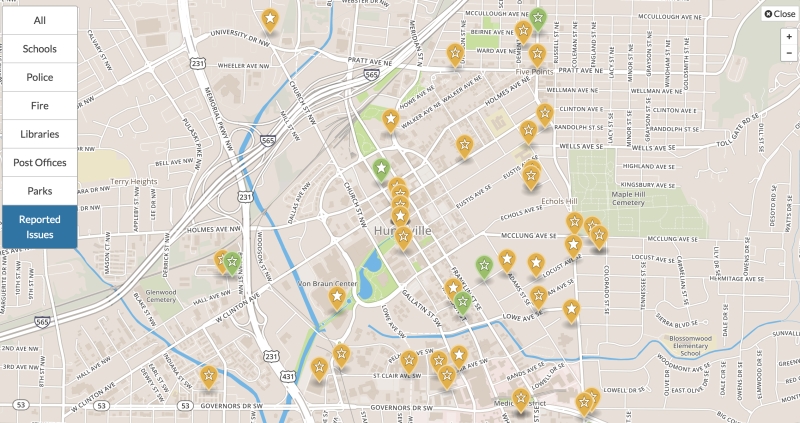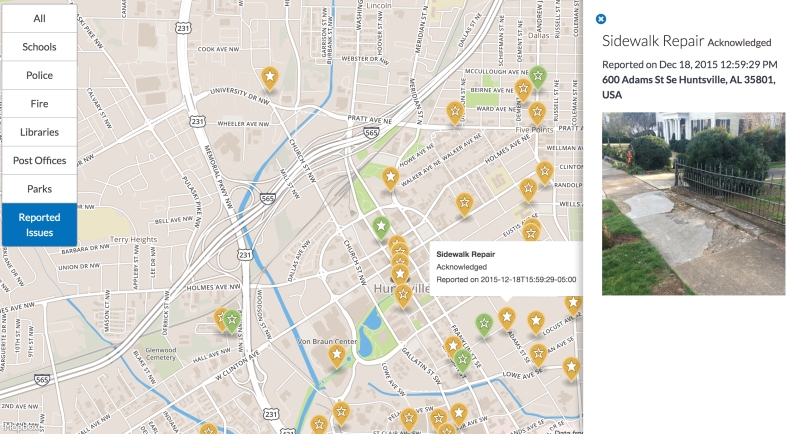 Submitting issues
In the actions box, when selecting 'Report an Issue,' a list of issue categories will display. Once a resident selects the category, a map will display to select the issue location. Residents can then can add a title, discription and a photo of the incident.
Once submitted, the issue will automatically display on SeeClickFix platform. You can check the status of the issue with the Check Status feature by using your tracking code or selecting from your recent items list.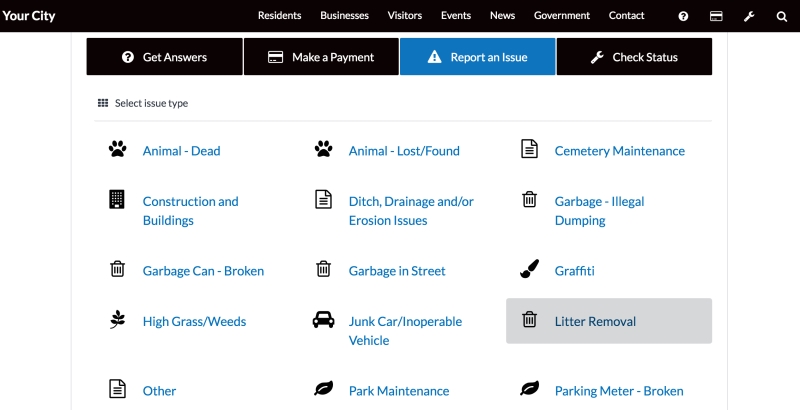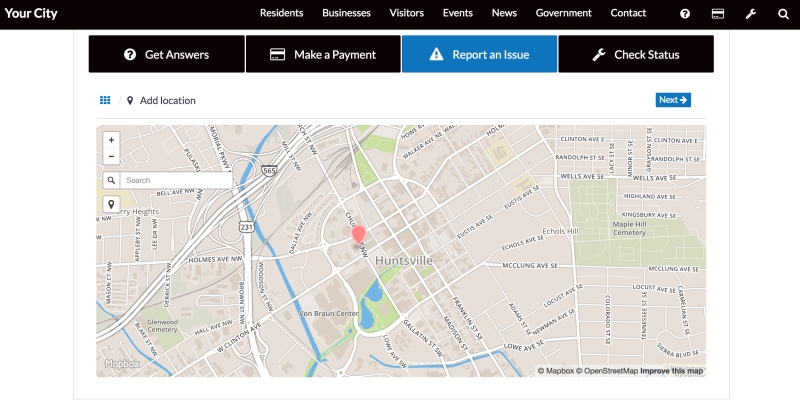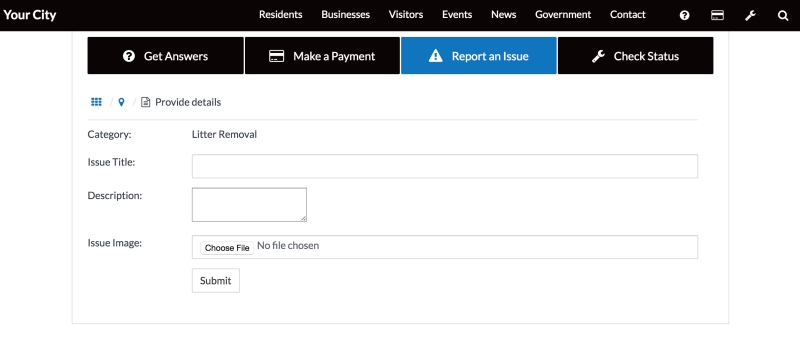 Q&A with SeeClickFix CEO Ben Berkowitz
What inspired you to start SeeClickFix?
It seems petty now in the grander context of all of the larger neighborhood issues that users have gotten fixed with SeeClickFix, but it was graffiti on a neighbor's building.  I had this moment of understanding that my concerns were going unheard by both my government and my neighbors while simultaneously seeing a solution in the social web.
When we saw that local government was having challenges getting residents to communicate constructively with city hall, we knew there was opportunity to solve this problem at scale.
What should cities know about SeeClickFix, and how it can help them better serve residents?
SeeClickFix has helped resolve nearly two million neighborhood problems. From small towns to large cities, domestically and abroad, communities have rallied together around constructive conversations to make their neighborhoods work better for their neighbors.
While most have seen SeeClickFix help residents and officials communicate better, many do not know that SeeClickFix also operates as an internal communications tool for governments as large as Detroit, Mich., and as small as Malden, Mass.
Mobile application reporting lets residents publicly document issues with a photo and location. The same app lets officials respond and complete their work in the field.
SeeClickFix helps officials work across departments and jurisdictional boundaries as well. Jurisdiction can be automatically determined by the location of an issue and routed to the proper official without the end user having knowledge who is responsible. This works particularly well when neighboring towns and counties are leveraging the platform.
Can you give us some numbers on SeeClickFix's impact to date?
SeeClickFix has been leveraged in thousands of communities by nearly one million residents and thousands of officials. There are nearly 300 cities and towns who have purchased SeeClickFix Request, our citizen to government tool.
This month, organizations have started to sign on to SeeClickFix Work, our government to government tool. The most reported issue by users is illegal dumping with traffic safety issues gaining the most support from residents. There have been 2.4 million issues reported on the platform, and 83 percent of them have been fixed. Over 12 million comments have been posted by users and tens of millions of dollars have been saved simply from moving calls to the web. Millions more have been saved in efficiency created from open communication and performance reporting.
What civic engagement lessons-learned do you have for cities?
Communication with residents needs to be transparent where legally allowed.
Public feedback loops create trust.
A well executed request management tool will create better internal communications as well.
Mobile applications give citizens who have not previously engaged with local government access.
If the application is consumer-friendly, constructive engagement will increase dramatically.
Citizens will be appreciative of the work of city hall and empathy will build on both sides of the doors to city hall.
Get ready to hear the words "thank-you" more often.
Get ready to have a city that better reflects the needs of its citizens.
Connect
Learn about SeeClickFix and follow on Medium, Twitter, Facebook and LinkedIn.
Learn more
Learn how ProudCity can help you serve your city proudly.