Local government meetings
ProudCity Meetings helps government easily publish and manage meeting minutes, agendas and videos.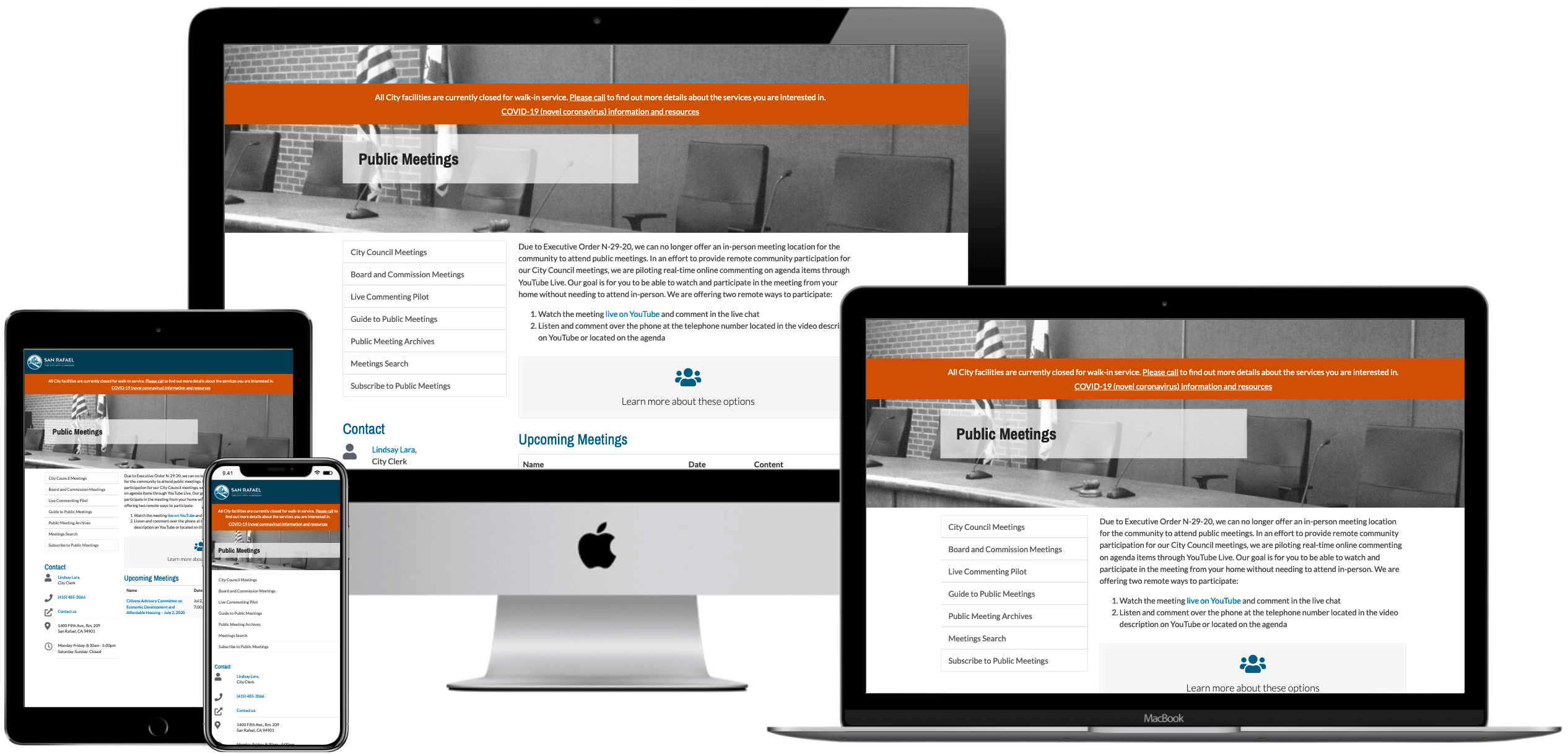 "I am proud that we looked at what the state required and said, 'that isn't enough.' To us, it isn't enough to allow our residents to participate by email before the meeting. We wanted to make our virtual process mirror in-person meetings as much as possible, and that meant we needed to allow real-time commenting. I am proud we pushed further."
Lindsay Lara, city clerk, San Rafael, Calif.
"We are proud to offer a searchable site that is also becoming a hub for all our our departments, boards and commissions. Our previous site was not as user-friendly so we had external sites for Recreation, Police and Commissions such as Volunteers and Open Space. The ProudCity platform has allowed us to bring all these sites together and offer our community a central, user-friendly site."
Camille Esposito, Recreation and Community Services, Fairfax, Calif.
Publish
Publish meeting agendas/minutes/videos
Customize
Customize council, board, subcommittee meetings pages
Add
Add meetings widget to any page on your government website
List
List upcoming meetings
Categorize
Categorize/display meetings by type (city council, planning, etc.)
Text/PDF
Publish minutes/agendas in text/PDF formats
YouTube
Embed YouTube video of your meetings, associate with minutes/agendas
Timestamping
Bookmark timestamps in YouTube videos
Audio
Embed audio recorded meetings using SoundCloud
Share
Share specific meetings to social media
Directions
Get directions via integrated Google Maps
Calendar
Add specific events to your personal calendar
Archive
Display past meetings archive
See how tabs display for each meeting including:
Agenda
Agenda packet
Minutes
Video
Contact information
Upgrade*
$600/year (subscription)
$500 (onboarding)
---
Includes:
* With purchase of ProudCity Standard website subscription
---
Stand-alone*
$600/year (subscription)
$2,000 (onboarding)
---
Includes:
* Without purchase of ProudCity Standard website subscription
---