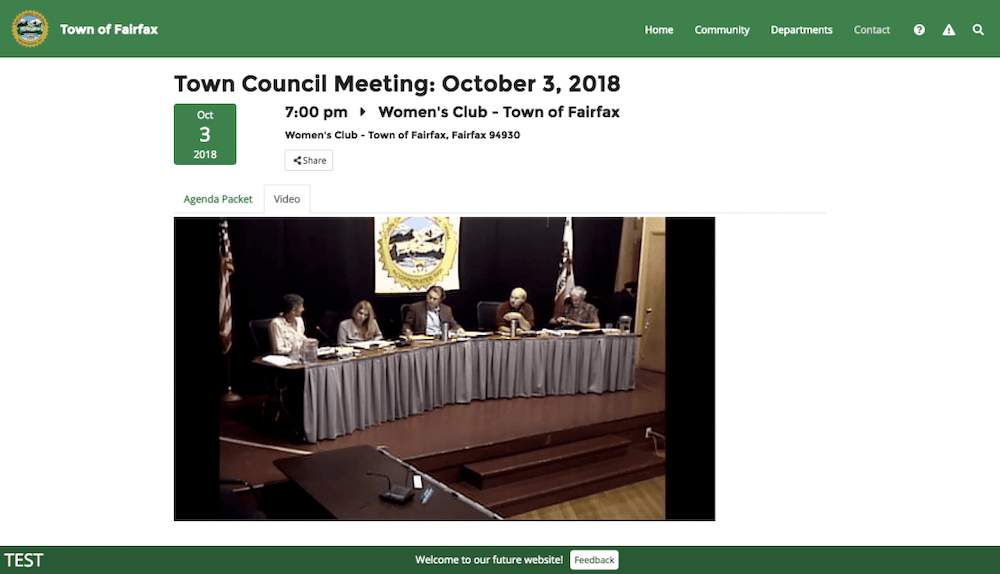 Public meetings are a fundamental component of government operations, and many of the cities we work with have asked about or requested a simple, affordable publishing tool — for calendars, minutes, agendas, videos — that seamlessly integrates with their websites.
We're proud to announce the launch of ProudCity Meetings, a new feature that lets governments easily and affordably publish and maintain meeting calendars, minutes, agendas and videos.
Compliance
What's important about ProudCity Meetings is that it supports public meeting information access requirements that are written into law, including specifications on how governments must present this information.
For example, starting January 1, 2019, California Code Section 54954.2 requires that cities, counties and other government agencies:
Must publish meeting agendas 72 hours before meetings
Agendas should be "(i) Retrievable, downloadable, indexable, and electronically searchable by commonly used Internet search applications. (ii) Platform independent and machine readable. (iii) Available to the public free of charge and without any restriction that would impede the reuse or redistribution of the agenda."
Agenda items include brief general description (not to exceed 20 words) of each item of business to be transacted or discussed, including closed session discussion items
Agendas shall specify the time and location of the regular meeting and shall be posted in a location that is freely accessible to members of the public and on the agency's website (if the local agency has one).
An online posting of an agenda shall be posted on the primary website homepage of a city, county, city and county, special district, school district, or political subdivision established by the state that is accessible through a prominent, direct link to the current agenda.
Problem
Particularly for smaller municipalities, current problems with existing online government meetings offerings include:
Feature-heavy
Expensive
Rigid interface
Not integrated with website search / content management system
Not interoperable
Outdated, proprietary technology
Solution
Lightweight, easy-to-use
Affordable
Customizable interface
Integrated with website search / content management system
Interoperable
Modern, open technology
Features
ProudCity Meetings features meet these requirements and more, including the ability to:
Publish meeting agendas/minutes/videos
Customize meetings pages
Add meetings widget to any page
List upcoming meetings
Categorize/display meetings by type (city council, planning, etc.)
Publish minutes/agendas in text/PDF
Embed YouTube video
Embed SoundCloud audio
Bookmark YouTube video
Display past meetings archive
Search meetings from site search
Advance search with Search+Docs (coming soon)
Share to social media
Get directions via Google Maps
Add events to your personal calendar
Demo
Visit our ProudCity Meetings demo, including a sample meetings page and see how cities, such as Fairfax, Calif., and Lucas, Texas, are using ProudCity Meetings.
Learn more
Learn more about ProudCity Meetings at proudcity.com/meetings, view a demo, and contact us with questions.