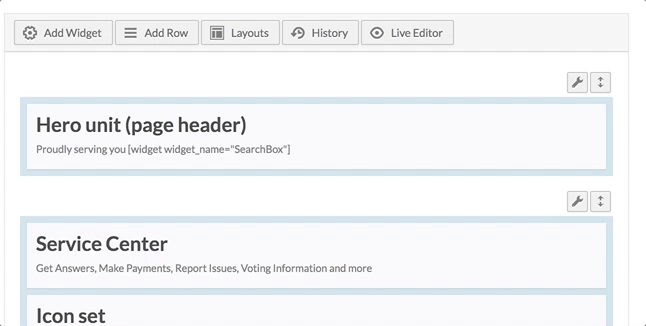 The ProudCity Pagebuilder includes more than 30 drag and drop widgets, making it extremely easy for government website managers to create custom pages and continuously refine these until the user experience is optimized.
These widgets include:
Answers list: List of Answers in a category with a display style
Auth0 Social Amplification: Shows Auth0 Social Amplification Widget Embed in sidebar
Calendar: Display events on an interactive calendar
Code or iFrame embed: Arbitrary text or HTML.
Contact Block: Simple contact info block
Contact submenu: Lists Agencies and Contact categories
Contacts list: List of staff Contacts in a category with a display style
Content list: List of content with a customizable display style
Content list filters: Adds a filter box for a specific content list
Content list search box: Adds a search box for a specific content list
Custom contact block: Display custom contact information in a sidebar
Department contact info: Display current agency's contact info
Department hours: Display the agency's weekly hours
Department list: List of agencies
Department menu: Display an agency menu
Department social media: Display social media icons
Documents list: List of Documents in a category with a display style
Embed Document: Select a document and embed a document preview
Events list: List of Events in a category with a display style
Form: ProudCity Forms
Hero unit (page header): Image / slideshow / title unit for the header of the page
Icon link: Simple icon button, and link
Icon set: A collection of icons and links
Image: A simple image widget with massive power.
Image set: A collection of images and links
Jobs list: List of Job Listings in a category with a display style
News Posts list: List of News Posts in a category with a display style
Page title: Display the page title
ProudCity services map: An interactive services map of for your city
ProudScore Widget: Allow visitors to vote up a piece of content
RSS: Entries from any RSS or Atom feed
Search Box: Autocomplete search
Service Center: Get Answers, Make Payments, Report Issues, Voting Information and more
Social feed: Dynamic social media feed
Submenu: Select a menu to display or, display a submenu from the Primary Menu
Text: A rich-text, text editor
View the live ProudCity Pagebuilder widgets demo.