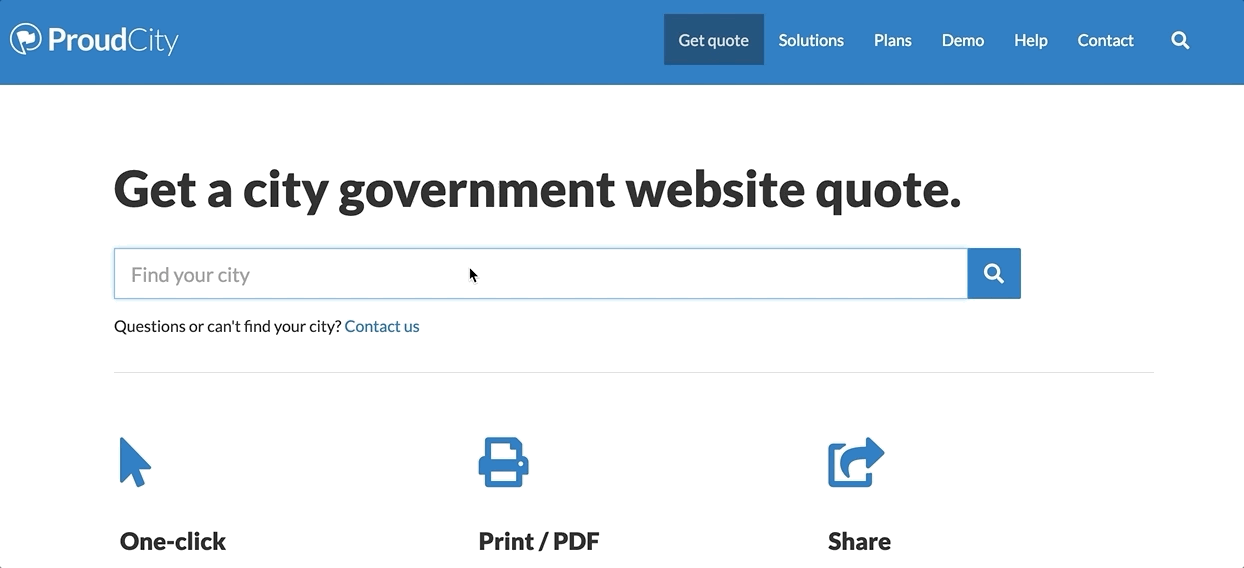 Local government leaders, particularly small cities, don't have the time, energy or resources to spend weeks (or months) and thousands of dollars navigating the nuances of pricing, modern technology standards and best practices of government websites. Legacy government website vendors, with outdated offerings and sometimes opportunistic pricing, only confuse governments even more on this front.
Rightfully so, many are frustrated by the current process of getting a simple government website quote quickly without the hassles of an overbearing sales process.
The solution to this problem is instant, self-generated, transparent pricing with comprehensive specifications and terms of service information, coupled with a free trial and product training, so that they can fully understand how the product works before making the actual purchase.
City governments can now get instant, self-generated pricing on websites through ProudCity's new city government website quote tool. This quote can be printed, converted to PDF, emailed and shared via social media on Facebook and Twitter.
The comprehensive quote provides pricing and specifications on key digital services critical to online government operations, including websites, online meetings, forms, and payments, as well as onboarding.
Governments can also contact ProudCity for a free trial and training (including questions and answers) demo.
At ProudCity, we're working to change how governments buy (see our Guide to Buying Government Websites), build, launch and manage digital services, and the quote tool is just another part of that process. The quote tool itself is also an educational resource for government leaders unfamiliar with what modern market offerings should be, as our specifications list is a checklist of what local governments should expect when buying new websites.
Save time, energy and money and get your city government website quote at proudcity.com/pricing.